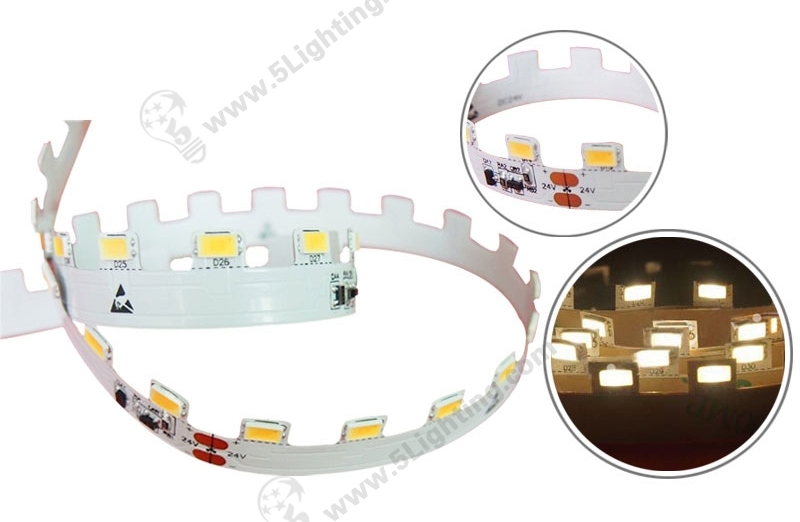 Angle Adjustable Strips SMD 5630
Product type: LED Strip Lights;
Lighting source: Samsung, or Epistar SMD 5630
Input voltage: DC24V;
Power consumption: 15W/Meter;
Waterproof level: IP20 (non-waterproof);
Application: Suitable for backlight or edge light for signage and other commercial display usage, or for holiday decoration lighting.
Contact by Email
Features:
a): New products angle adjustable strips 5630 with unique design that its LED chips can be adjustable, very flexible for our customers to change lighting direction while using it;
b): Wholesale angle adjustable led light strips 5630 with led quantity of 70LEDs/Meter, and featured with 120 degrees wide viewing angle make it has uniform brightness, emitting soft and gentle lighting, suitable for festival decoration, party decoration lighting or special events decoration usage to create sweet and romantic atmosphere;
c): Great quality bendable led strip 5630 runs on constant current version DC24V control system, and led strip light 5630 smd angle adjustable without RF interference, major reduction in power costs, can last a long time life span up to 30,000hours!
d): Easy for installation, this led tape light 5630 adjustable is self-adhesive with 3M tape back that very easy to place at anywhere you want it to be, convenient to use, directly stick on light box or at aluminum profile of shopping mall's display cabinet, such as jewellery cabinet which can make jewelleries more shining, perfectly fixed for shopping mall or big department store;
f): Our flexible led strip smd 5630 bendable use super bright SMD 5630 LED chip as lighting source, Samsung and Epistar brand LED chips also for options, featured with solid-state, high shock or vibration resistant, with stable and excellent performance;
g): This humanized design angle adjustable strips 5630 with temperature Sensor, make it can lower the current to protect itself when the temperature is too high.
Applications:
Factory direct sale angle adjustable strips 5630 runs on constant current version DC24V control system, adopts SMD 5630 LED chips as lighting source, angle adjustable LED chips that can change lighting direction, 120 degree wide viewing angle with uniform and soft vision, perfectly fixed for lighting boxes display lighting and other indoor decoration lighting usage;
(1): Commercial lighting: Backlighting for luminous characters, Window display lighting, Channel letter lighting, Lighting boxes, Advertisement sign lighting, Jewellery cabinet display at shopping mall or other commercial activities display scenes etc;
(2): Special place lighting: Amusement park lighting, Stairway accent lighting, Corridor lighting, Canopy and Bridge edge lighting, Archway lighting, Theater lighting, Club decorative lighting, Furniture decorative lighting, Swimming pools and fountains lighting, Car decorative lighting, Path or contour marking, Security lighting, Emergency lighting etc;
(3): Moment decorative lighting: Festivals or holiday decorative lighting, Party decorative lighting, Special events decoration lighting etc.
Installation instructions:
1. Clean the surface you intend to stick the light strip to;
2. Peel off the backing strip off the 3M adhesive tape;
3. Press and hold the light strip firmly against the surface;
4. Plug your light strip into a compatible power supply or dimmer;
5. Connect your power supply to a wall outlet.
Good quality angle adjustable strips 5630 from 5 star lighting factory !
Brief Discription
DC24V, Constant Current Version, CRI(Ra)≥90, SMD 5630, Samsung or Epistar LED Chip, Angle Adjustable Strips
Item Type
LED Strip Lights
Electrical and optical parameter
Model Number:
Angle Adjustable Strips 5630
LED QTY:
70LEDs/Meter;
Lighting source:
Samsung, or Epistar SMD 5630
Cutting methods:
Cuttable every 6LEDs, 5Meters/Reel
Power consumption
15W/Meter
Luminous flux
CRI(Ra) ≥ 90 version:
Defferent white color: 1450-1600Lm/Meter;
Samsung SMD chip:
Defferent white color: 1700-2000Lm/Meter
Beam angle (°):
120°
PCB size (mm):
10mm;
Input voltage:
DC24V
Constant voltage:
Constant current version
Color rendering:
CRI(Ra) ≥ 90 or CRI(Ra) ≥80
Waterproof:
IP20: non-waterproof;
Lighting color:
CRI(Ra) ≥ 90 version:
Warm white / Nature white / Pure white: 2500K-7000K;
Samsung SMD chip version:
Warm white / Nature white / Pure white: 2700K-7000K
Lifespan:
30,000hrs
Application:
Suitable for backlight or edge light for signage and other commercial display usage, or for holiday decoration lighting
Warranty:
2years
Certifications:
CE & ROHS approved