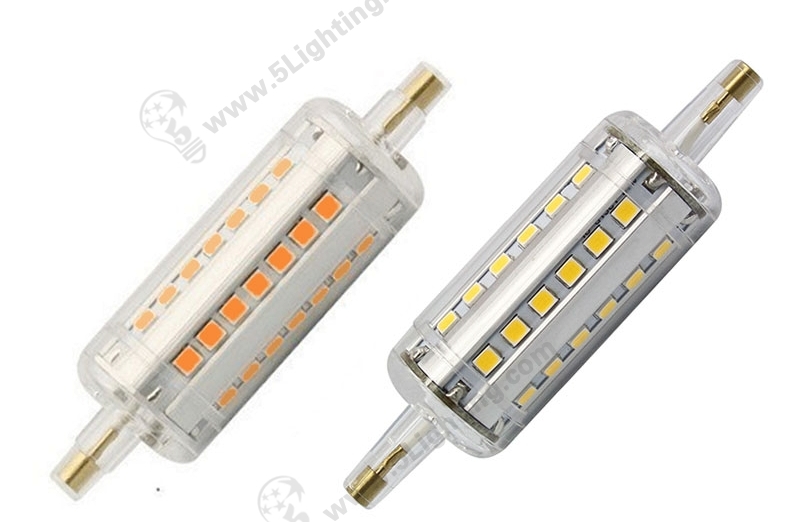 Replaces 100 Watts Halogen R7S Light Bulbs
Product type: R7S Light Bulb / Light Bulbs
Product model: LED R7S Lights 78mm
Diameter (Φ): 22mm (3/4 Inch)
Power consumption: 7W
Input voltage: AC 100V-240V
Application: Suitable for halogen pop up lighting, halogen flood lights and other halogen R7S light bulbs replacement.
Contact by Email
Features:
a): Factory direct sale led r7s lights 78mm adopts SMD 2835 LED chips as lighting source, super bright that with 700-800Lm high lumens, and with 360 degree wide beam angle to maximize light fixture efficiency, make it can emit pure and gentle lighting;
b): Our r7s led bulb 78mm with unique designed as direct retrofit to most of LED R7S lamp, easy to installation of mini shape design, perfectly compatible with halogen pop up display lights, halogen flood lights or other different kinds of double ended R7S connection type halogen lighting replacement;
c): This led r7s replacement 78mm with compact size diameter Φ22mm, and this led r7s lamps 78mm offers length 78mm, 118mm, 135mm and 189mm available for options, completely meet customers' requirements;
d): New item of the led r7s bulb 78mm with optimized circuit design that can perfect match with imported famous LED chip to improve the luminous efficiency up to 110Lm/W, which creates excellent performance and illuminating effects;
e): Great quality of our led r7s light bulb 78mm with only 7w low power consumption, Energy saving and high luminous efficiency, Eco-friendly that perfectly fits for 100 watts or halogen pop up lighting or traditional flood lights replacement;
f): Unique design led r7s halogen replacement adopt Philips' NXP solution, dimmable 0 to 100%, compatible with the market 95% triac dimmer, no flicker, more stable;
g): Excellent led r7s lights 78mm using durable 6063 aluminum material, it's conducive to heat dissipation for the compact size r7s led bulb 78mm, and constant voltage and current driver inside to ensure long lifetime and stability.
Applications:
Wholesale led r7s lights 78mm using SMD LED chips as lighting source with high lumens, and energy saving with 7 watts low power consumption that can be ideal option to replace 100 watts traditional or halogen lamps, easy installation of mini shape design that perfectly fits for R7S connection type halogen pop up display lights replacement.
[1]: Household lighting usage: Living room, Bedroom, Bathroom, Dining room, Kitchen and other home decoration lighting.
[2]: Commercial lighting usage: Pop up display lighting in tradeshow/exhibition pop up stand, Office, Studio, Show room, Meeting Room, Hotel, Restaurant, Underground store, Coffee house etc.
[3]: Other lighting usage: Outdoor flood lighting in Landscape, Hallway, Tunnel, Park, Garden, Library, KTV and so on.
Good quality led r7s lights 78mm from 5 star lighting factory !
Brief Descriptions:
LED R7S Lights 78mm, 7W, halogen replacement R7S led bulb, Perfect for replaces 100W halogen lights
Item Type:
R7S Light Bulb / Light Bulbs
Electrical and optical parameter:
Model number:
LED R7S Lights 78mm
Size(mm):
78mm ( 3 Inch)
Diameter (Φ):
22mm (3/4 Inch)
Material:
Aluminum + PC
Lighting source:
SMD2835 LED Chips
Power consumption:
7W
Replacement:
100 wattages
Luminous flux:
700-800Lm
Input voltage:
AC 100V-240V
Luminous efficiency:
110Lm/W
Connecting type:
R7S lamp, double ended connecting type
Beam angle:
360°
Frequency:
50-60Hz
Power factor:
>0.5
CRI(Ra):
Ra≥80
IP Rating:
IP44
Dimmable:
0 to 100%
Light appearance(CCT):
2700K-6000K
Work temperature:
-20℃~+50℃
Certificates:
CE / RoHs
Lifespan
50,000 Hrs
Warranty:
3 years
Application:
Perfectly suitable for halogen pop up lighting, halogen flood lights and other halogen R7S light bulbs replacement.
Packing Dimension:
Unit Light size(Inch):
Φ: 22mm x 78mm
Φ: 3/4 Inch x 3 Inch (H)
Interior box dimension (Inch):
L:1 1/4 Inch x W:1 1/4 Inch x H:3 1/4 Inch
Super Bright LED R7S Lights, Perfect for replaces halogen lights